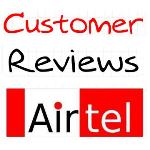 This review is written by Mihir Patil. He is Senior Writer at MobiGyaan. Mihir has reviewed Airtel for Maharashtra and Goa Telecom Circle.
Network Availability- 6/10
Coverage has always been the main drawback of Airtel in Maharashtra & Goa circle.Subscriber usually faces calls drops in elevator,basement and parking lots.Company has been struggling with the issue of less cell sites in main cities of Maharashtra & Goa circle like Pune,Nagpur,Nasik and Panjim.Network is usually full in outdoor places but the strength decreases drastically as soon as subscriber enters an indoor place.
Network Quality-6/10
Network quality of Airtel in Maharashtra & Goa circle is very average.User faces congestion in peak hours and the call quality is way below average with frequent call drops even in the heart of city.Very less measures are taken in last 5-6 years to improve the network strength and depth.Network quality on highway is better because highway is scarcely densed.
Innovative Schemes- 7.5/10
The success of Airtel in Maharashtra & Goa circle completely relies on new schemes and offers which are somewhat better in its own way than other providers.Airtel dared to launch "Airtel Friendz" pack years ago in Maharashtra & Goa circle when 10 paise/min calling was considered as joke! However this pack no more exists but people who are already on this plan can still use it without facing any problem of validity as there are schemes like the 110 Rs recharge which gives 98 Rs talktime and 1 year validity with no change in the tariff plan.Airtel also introduced the 20 Rs voucher which gives 2000 local and national voice sms to any provider in India with a validity of 30 days.This scheme still exists and is a boon for subscribers who like to exchange info by sending voice sms instead of the orthodox way of sending texts.
Customer Care- 6/10
Customer care of Airtel is good but certainly not the best.The staff is well mannered but lacks enthusiasm.They can give you the info you require but for that they need to consult their seniors.Call customer during peak hours and they have ready answers like "our sytem is down..please callback after sometime" or "we are not able to check your information because of system upgradation so please callback after sometime". Some customer care executives can't even speak fluent English.All in all a user gets his problems solved by calling customer care but the experience is not something which can be relished.
VAS- 8/10
Airtel has made a significant mark by launching a wide array of value added services…some services are just meant to empty the pocket of subscribers like the astrology section where random predictions are given not based on any calculation and charging hefty amount for it.Hello tunes were first launched on Airtel in Maharashtra & Goa circle in 2004.Months later other providers launched their own services of Hello Tunes with different names.Airtel has usually given unmatched value added services in this circle like the mobile office service,NOP service.However they have gradually increased the GPRS rates in a span of 5 years which made them lose few of their loyal GPRS subscribers because of the new entrants like Aircel and Reliance GSM which offers unlimited free internet for as low as 98 Rs per month and 5 paise/10 kb respectively.
Things I like the most about my operator
The innovative schemes is the only good thing about Airtel in this circle.
Things I hate the most about my operator
Network Quality